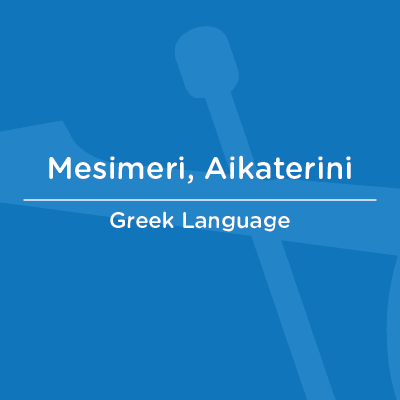 Mesimeri, Aikaterini | Greek Language
Dedicated, certified teacher of Greek language and culture with a B.A in pedagogy (University of Trace, 1993) MA in special education (Aristotle University of Thessaloniki) and a diploma in special education (2006) in Greece. Qualified and familiar with e-learning platforms, educational material and educational robotics.
She participates in the E-twinning action of the European commission that aims to encourage European schools to collaborate using Communication technologies by providing necessary action. 
She is also certified in the distance education program of the National and Kapodistrian University of Athens (EKPA) with the theme: "Teaching foreign languages to children of preschool and primary education".
She has been working with Archimedean Academy since 2016 teaching Greek language and Culture but her overall experience is more than 20 years in privates and publics schools in Greece and in Special education.
Her teaching philosophy includes: Teaching methodology, Collaborative learning, Educational technology but most of all faith in individual of all of her students. she tries to upgrade the quality of the Greek program and to with  projects. On 2020 she has been awarded from the committee Cyprus – Helens abroad for her project "I am learning about the divided Cyprus". The current year (2020-21) one of her successful project was "I am learning about Alexandria & Giannis Kotsiras" with the collaboration of other teachers as well.