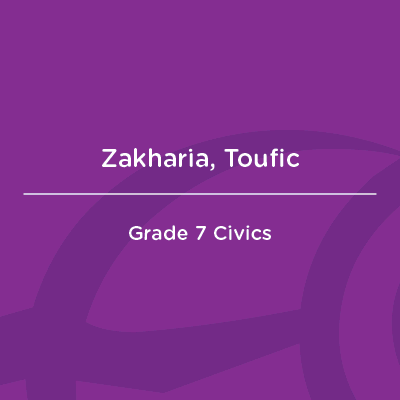 Zakharia, Toufic | Grade 7 Civics
Toufic Zakharia is a Social Studies teacher with a passion for civics and community involvement. Mr. Zakharia spent part of his childhood in Greece, living in Vouliagmeni, touring all of Greece, and attending elementary school at St. Lawrence College. Mr. Zakharia earned an Associates Degree in Paralegal Studies; a Bachelors Degree in Political Science; an Undergraduate Certificate in Law, Ethics, and Society; and a Master's Degree in Public Administration (earning his masters with honors from Florida International University).
In college, he interned for Miami-Dade County and founded a nonprofit organization. Mr. Zakharia has vast work experience in both the public and private sectors and has received public service awards for his many years working for the public interest. His government and public interest work experience includes his work at the State Attorney's Office and working as a legislative assistant for the Florida House of Representatives.
Mr. Zakharia also has education experience teaching a variety of courses, including Social Studies and English courses, to Middle School, High School, and College students. His Social Studies teaching experience includes U.S. History, World History, Government, and Economics. Fond memories of Greece inspires this Social Studies teacher, to emphasize Greek influences on our American values and democracy.
Outside of teaching, Mr. Zakharia is an elected official, serving on the Miami Dade County Community Council (which he has done for several years). Mr. Zakharia also serves in his Federal Appointment to the Florida Advisory Committee to the U.S. Commission on Civil Rights. Mr. Zakharia enjoys encouraging others to get involved in the community and has many years of community service experience, volunteering and serving on boards of non-profit and charitable organizations. In addition to teaching and serving the public,
Toufic Zakharia has been involved in his family's children's entertainment business since arriving from Greece. While going to secondary school and university, Mr. Zakharia took theatre classes at Coconut Grove Playhouse, created educational and multi-cultural puppet shows, children's activities, choreographed theatre and character shows, entertained kids as a clown and juggler, organized children's educational events in coordination with Miami Dade County Cultural Affairs Department around Miami-Dade County.
Mr. Zakharia believes that the arts is extension of ourselves. Through Arts and Culture, we can enrich our students by making life long connections around us.
Lastly, Mr. Zakharia enjoys juggling his 3 children, spending time with family, teaching Civics attending community events, debating politics, reading, running, biking, and learning to cook delicious Greek and Mediterranean dishes.