Certificate of Attainment in Greek 2020
Testing Dates have been postponed due to Covid-19
Testing Dates October 2020
To replace the May 2020 testing period the examination will take place at the facilities of Archimedean Academy on the 13th, 14th, 15th, and 16th of October 2020
Candidates will not be allowed to participate if testing fees have not been paid prior to the testing dates.
Checks should be made out to Archimedean Academy and mailed to 12425 SW 72nd st. Miami FL 33183.
You may also pay via credit card.
Fillable Credit card authorization (Here)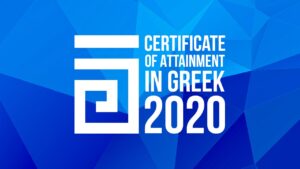 LEVEL
DATE
PARTICIPATION COST
A1
13-Oct-20
$85.00
A2
14-Oct-20
$105.00
B1
15-Oct-20
$105.00
B2
16-Oct-20
$115.00
G1
14-Oct-20
$115.00
G2
13-Oct-20
$115.00
Application period is now closed
#colspan#
ARCHIMEDEAN ACADEMY (10007) TESTING CENTER: Greek Language Testing Schedule October 2020
LOCATION: 12425 SW 72nd St., Miami, FL 33183, Building B
MASTER SCHEDULE
| LEVEL | Oct 13, 2020 | Oct 14, 2020 | Oct 15, 2020 | Oct 16, 2020 |
| --- | --- | --- | --- | --- |
| | Starting Time | Starting Time | Starting Time | Starting Time |
| A1 (Children) | 9:00 a.m. | | | |
| A1 (teenagers-adults) | 9:00 a.m. | | | |
| A2 | | 9:00 a.m. | | |
| B1 | | | 9:00 a.m. | |
| B2 | | | | 9:00 a.m. |
| Γ1 | | 9:00 a.m. | | |
| Γ2 | 9:00 a.m. | | | |
Oral Examinations will start after the written testing. Time will be Announced.
Assigned Classrooms per level will be posted at the Testing Center's Site.
Students must have with them: Student picture Id, Water bottle, blue or black pens, pencil, eraser, and optional personal sanitizer and gloves.
All students must wear face masks
To participate candidates must bring with them a check or the school credit card authorization form signed, in the amount corresponding to the participation level.
Checks must be made out to Archimedean Academy and indicate the name of the candidate in the memo area.
General Information for May 2020 Examinations
Archimedean Academy is functioning as an examination center for the Certificate of Attainment in Modern Greek.
The Archimedean Schools testing center (Code 10007), is authorized by the Centre for the Greek Language, a department of the Greek Ministry of Education, Life Long Learning and Religious Affairs.
The examination will take place at the facilities of Archimedean Academy on the 18th, 19th, and 20th of May 2020
Checks should be made out to Archimedean Academy.
The examination covers all four language skills, i.e., candidates are examined in Listening, Reading, Writing, and Speaking.
The Oral examination will take place right after the written examination.
Application Period: February 1st to March 22nd, 2020
To Submit an Electronic Application (Currently available only in Greek): Electronic Application
For your electronic application to be approved, confirmation of payment is required. Please mail your check on time to the address below.
To submit your application in a hard copy: Application in English (PDF) | (Word)
| LEVEL | DATE | APPLICATION PARTICIPATION COST |
| --- | --- | --- |
| A1 | MAY 19 2020 | $85.00 |
| A2 & B1 | MAY 19 2020 | $105.00 |
| B2 & G1 | MAY 20 2020 | $115.00 |
| G2 | MAY 18 2020 | $115.00 |
Together with the Application, the corresponding questionnaire here below needs to be submitted.
Applications, Questionnaire, a copy of a picture id and the check shall be submitted to:
Archimedean Academy
Department of Greek Language Testing
12425 SW 72nd st.
Miami, FL 33183
For more information contact Mr. Dimitri Bardoutsos.
email: [email protected]
Tel: 305 279 6572
Fax: 305 675 8448