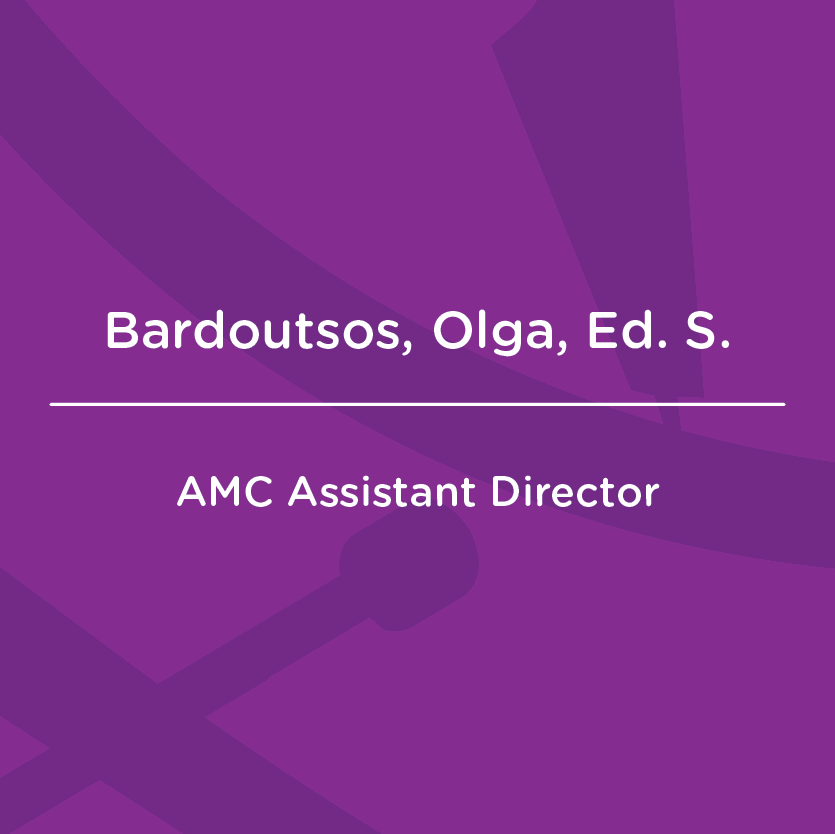 Bardoutsos, Olga Ed. S. | Assistant Director, English, Fundraising
Educational / Professional Background Information:
Specialist Degree in Educational Leadership, Florida International University 2013.
Master's Degree in Teaching English as a Second Language Florida International University 2007.
Bachelor's Degree in Business Administration and French Literature from the University of South Florida, Tampa Florida, La Sorbonne, Paris, France one-year abroad.
30 years classroom experience in teaching English and/or French in Greece and the United States mostly with High School Students.
Teaching Experience
Once I graduated from high school, I knew I wanted to do live in a multicultural, international environment. It began with my passion for foreign languages, which took me to Spain and France where I studied Spanish in Salamanca and French at La Sorbonne in Paris. I was fortunate enough to have been able to travel through Europe immersing myself in all its wonders. When I returned to the United States I formalized my education in French Literature as well as Business Administration. I moved to Greece and taught English and French in foreign language institutes until I eventually started my own language institutes. I continued teaching and managing the schools until we moved to the United States. I moved back the year Archimedean Schools opened in 2002. I have been working with the Archimedean schools in different positions since then. Most importantly I have been sharing with your children my love of languages and diversity. I hope to inspire them to look deep into themselves and others and to work for their dreams. Learning how to motivate and serve students is my life vocation. I look forward to working with your students for as long as I can be a productive and effective member of the Archimedean Upper Conservatory's mission.
Teaching Philosophy
We are all unique and yet the same, high school is the time in students' lives when they are defining who they are, what they stand for and what they stand against. In the process they are discovering themselves, the world, philosophies, sciences and the arts. Emotions run high, and these students are passionate about their future. All students come to school with the desire to do their best. No one comes to fail. I believe a teacher's vocation is one to inspire students to be successful in whatever role they aspire, to encourage the dishearten, to foster genuine communication and understanding with each other and to respect and embrace our differences. Our work is to teach them well by giving them the tools to discover their passions, guide them in the maze of decisions towards higher education and then get out of the way while they move on.