COVID-19 Protocols Amendment v2.2.
Following the FLDOE guidelines, The Archimedean Schools' Covid-19 Protocol of August 20, 2021  v2.1 is amended as follows for both students and employees.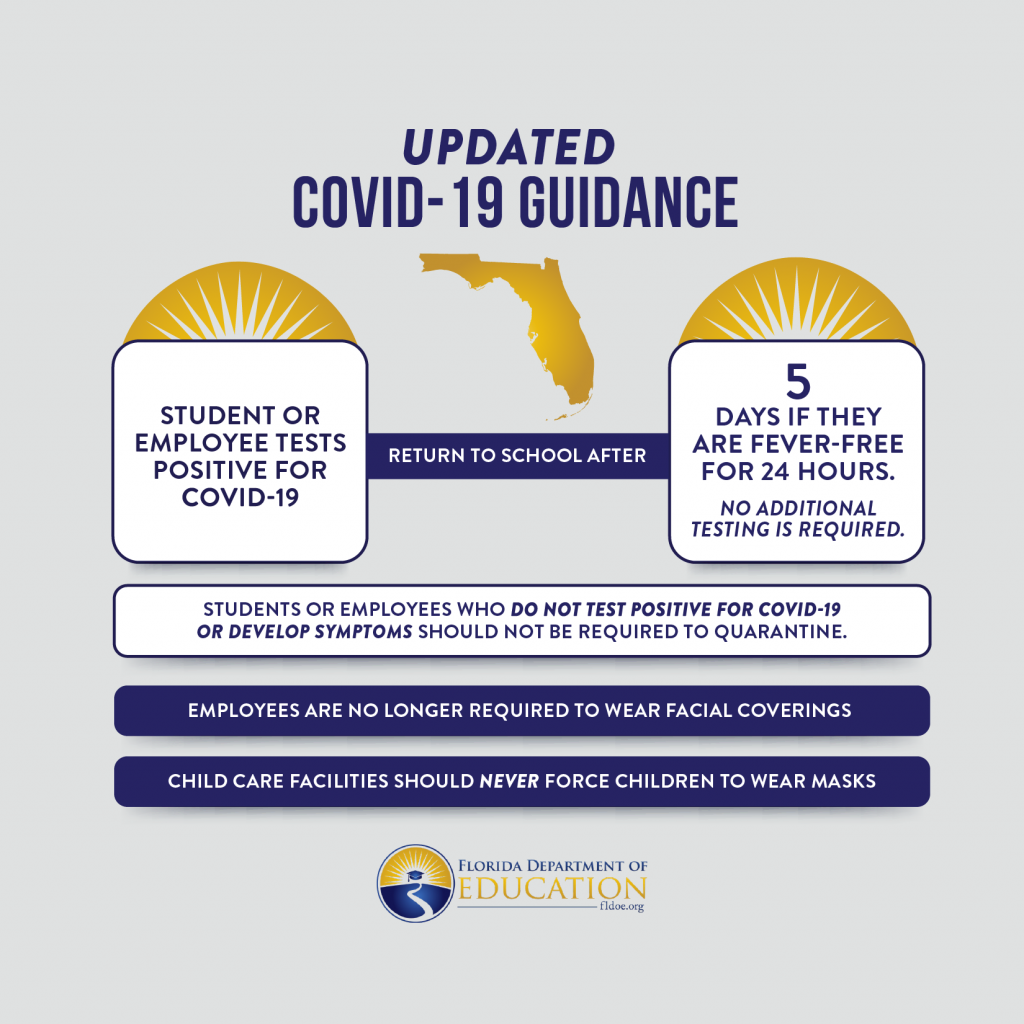 COVID-19 Protocols: Updated on August 12, 2021
Version v2.1
Revised August 20, 2021
Archimedean Schools are constantly monitoring and updating policies and reissuing guidelines in regards to the Covid-19 emergency, on the Federal, State & Local Levels to ensure that the practices as implemented provide the safest environment for all our students/families, faculty, and staff. Hence this document will be revised accordingly.
A.- Building Ventilation
Air purifiers Ionizing equipment in all classrooms' HVAC ventilation systems. Archimedean Schools has already equipped all air-handlers for all classrooms and offices of all campus buildings with iWave-C air purifiers (ionizers).
(Equipment: NuCalgon iWave-R Self-Clean Air Purifier)
Following the CDC recommendations, building managers will put the thermostats to ON instead of AUTO and crack open (not to exceed 2 inches gap) one window in every room in the morning. The night cleaning crew will close the window at night.
Building A: Top windows facing courtyards will be slightly opened by the Maintenance crew.
Building B: Air handlers are working and the air is being circulated. One window slightly opened (not to exceed 2 inches gap) will assist in effectively circulating the air.
Pre-K Building: One window and a door slightly opened will assist in effectively circulating the air.
Offices: As needed a window may be slightly opened.
References:
a. CDC: Guidance for COVID-19 Prevention in K-12 Schools (Aug. 5, 2021)
b. CDC: Ventilation in Buildings (June 2, 2021)
We will explore the installation of vertical Corsi-Rosenthal boxes in classrooms (Marv 13 filters).
B. Sanitation
Sanitizing stations in the hallways are already installed.
Additional hand-washing sink stations (3-4 sinks each) have been installed. (Two in Building A, two in Building B, PLC campus sink stations in bathrooms)
Additional outdoor benches and dining tables are being added to the outdoor dining areas.
Classrooms will be sprayed (with electrostatic sprayers) by custodians when the students are in lunch.
Students will continue to drink from water bottles/thermoses provided from home. The bottles can be refilled from the water fountains. Students may not drink directly from water fountains.
Students will not share books nor supplies and will use their iPads to access eBooks and other resources for parts of the day.
C. Masks & Social Distancing
Parents and Students will be mandated to wear masks on campus following MDCPS guidelines.
a. Effective Monday, August 23, 2021, facial coverings will be required for all students,
b. Masks do not need to be worn during outdoor activities so long as appropriate physical distancing is maintained.
Teachers will be mandated to wear masks indoors and, when in groups, outdoors.
Social distancing desks will be at least 3 feet apart.
Hallway traffic will be mostly unidirectional. Signage will be strategically placed to reinforce safety protocols.
Luncha. Academy: Separate eating areas outdoors by age group (K-1), (2-3), and (4-5).
b. AMC & AUC: Additional outdoor dining areas will be added.
c. Pre-K: Each class will be eating in a separate classroom.
Academy: Two hallway monitors will be present at all times to monitor bathrooms.
Supervised student dismissal: All students should leave the property of the Archimedean Campus the latest 20 minutes after the dismissal bell unless they participate in ACC or Athletic or Academic competition activities. After that time, Archimedean staff will supervise these students under a fee.
D. Quarantine and Mitigation Measures
Quarantines will be managed and tracked following MDCPS guidelines and reported to the FLDOH.
Parents are strongly encouraged to monitor their child's daily temperature before coming to school. Archimedean Schools will be doing temperature checks at random. If a student is determined to have an abnormally high temperature, parents will receive a call, and the child will need to be picked up within 30 minutes.
Isolation Area: If a child exhibits a temperature or any cold/flu-like symptoms the student will be removed from their classroom, and will wait in the isolation area reserved in each building.
Given the current statistics and in an abundance of caution parents will not be allowed inside the school buildings until further notice. All visits will be virtual and scheduled via email requests.
E. Communication Protocol of Health reports (As per Miami-Dade Schools Protocol)
Archimedean Schools will follow the FLDOE protocol included below. Anyone at the school identified as having been in close contact with the individual who tested positive for COVID-19 will be contacted directly by the school administration. Should it be deemed necessary, the entire school community or appropriate subgroups of the community, including parents and employees, will also be notified via e-mail.
F. Parent Meetings
All meetings (Parents with Administration and Teachers) will be held via Zoom for the 2021-22 academic year.
If a 'in person meeting at school' is required, parents must contact the school administration in advance to set up a time to meet.For Appointments To Visit Our Campus, please visit the following form.
G. School Events & Functions
Parent Meet & Greet/Open House events:

All ArchimedeanSchools will be Hosting Virtual Parent Info Meetings.
PreK will hold a Parent Meet & Greet. Parents will be invited in one day prior to school starting to bring their child to meet the teachers. Parents will be scheduled specific times in a rotation to avoid all parents in the building at once. Families are asked to limit this to PARENTS and the PreK 4 child ONLY. (No extended family or siblings are allowed to attend.)
Sports

The AUC and AMC sports program will continue and will follow the CDC health and safety protocols.
Archimedean Community Center (ACC)/ Before & After School programs:

The ACC will continue to provide services and will follow the CDC health and safety protocols.
Lunch Program

Free and reduced meal Applications should only be submitted online. For more information about the lunch program and to submit your application please visit archimedean schools lunch program page.
---
Prepared by Archimedean Admin Layer
G. Kafkoulis
J. Martinez
A. Mirhaj
D. Demopoulos
D. Brooks,
D. Bardoutsos
R. Jean
O. Bardoutsos
N. Roussi,
M. Theodorakidis
Protocolos COVID-19: Actualizado el 12 de agosto de 2021
Version v2.1
Revisado 20 de agosto de 2021
Las Escuelas de Archimedean monitorean y actualizan constantemente las políticas y pautas con respecto a la emergencia Covid-19 a nivel local, federales y estatales para garantizar que las prácticas según implementadas brinden el entorno más seguro posible para todos nuestros estudiantes/ familias, profesores y personal. Por lo tanto, este documento se revisará/actualizará de ser necesario.
A.- Ventilación de edificios
Se han

instalado purificadores de aire Equipos ionizante

s en los sistemas de ventilación HVAC de todas las aulas. La escuelas de Archimedean ya ha equipado todos los controladores de aire para todas las aulas y oficinas de todos los edificios del campus con purificadores de aire (ionizadores)

iWave-C.

(Equipo: Purificador de aire autolimpiante NuCalgon iWave-R)
Siguiendo las recomendaciones de los CDC, los administradores de edificios pondrán los termostatos en ON en lugar de AUTO y abrirán una ventana y/o una puerta en cada sala de clases por la mañana. El equipo de limpieza nocturna cerrará la ventana por la noche.


Edificio A: El equipo de mantenimiento abrirá ligeramente las ventanas superiores que dan a los patios.

Edificio B: ALos equios de aire están trabajando y el aire está circulando. Una ventana ligeramente abierta ayudará a hacer circular el aire de manera efectiva.

Edificio de pre-Kínder: Una ventana y una puerta ligeramente abiertas ayudarán a hacer circular el aire de manera efectiva.

Offices: Si es necesario, se puede abrir levemente una ventana.

Referencias:

a. CDC: Guía para la prevención de COVID-19 en escuelas K-12 (5 de agosto de 2021) (Aug. 5, 2021)

Exploraremos la instalación de cajas verticales Corsi-Rosenthal en las aulas (filtros Marv 13).
B. Sanitation
Las estaciones de "sanitizer" en los pasillos ya están instaladas.
Se han instalado lavamanos adicionales (3-4 lavabos cada una). (Dos en el Edificio A, dos en el Edificio B, estaciones de fregadero del campus de PLC en los baños)
Se están agregando bancos y mesas de comedor al aire libre adicionales a las áreas de comedor al aire libre.
Los conserjes rociarán los salones de clases (con rociadores electrostáticos) cuando los estudiantes estén en el almuerzo.
Los estudiantes continuarán bebiendo agua de las botellas y termos provistos en casa. Las botellas se pueden rellenar desde las fuentes de agua. Los estudiantes no pueden beber directamente de las fuentes de agua.
Los estudiantes no compartirán libros ni suministros y usará sus iPads para acceder a libros electrónicos y otros recursos durante partes del día.
C. Máscaras y distanciamiento social
Los padres y los estudiantes tendrán la obligación de usar máscaras en el campus siguiendo las pautas de MDCPS.

a. A partir del Lunes 23 de agosto de 2021, se requerirán cubrimientos faciales para todos los estudiantes,
b. No es necesario usar máscaras durante las actividades al aire libre siempre que se mantenga una distancia física adecuada.

Los maestros tendrán la obligación de usar máscaras en el interior y, cuando estén en grupos, incluso al aire libre.
Los escritorios estarán separados a una distancia de 3 pies.
El tráfico en los pasillos será principalmente unidireccional. Se colocarán afiches y pegatinas estratégicamente para reforzar los protocolos de seguridad.
Almuerzo


a. A Academia: áreas para comer al aire libre separadas por grupo de edad (K-1), (2-3) y (4-5).

b. AMC y AUC: se agregarán áreas de comedor al aire libre adicionales.

c. Pre-K: Cada clase comerá en un salón de clases separado.

A Academia: Dos monitores de pasillo estarán presentes en todo momento para monitorear los baños.
Salida estudiantil supervisada: Todos los estudiantes deben salir de la propiedad del campus de Arquímedes dentro de los últimos 20 minutos después de la campana de salida, a menos que participen en ACC o actividades de competencia atlética o académica. Después de ese tiempo, el personal de Archimedean supervisará a estos estudiantes mediante compensación adicional.
D. Medidas de cuarentena y mitigación
Las cuarentenas se gestionarán y rastrearán siguiendo las pautas de MDCPS y se informarán a la FLDOH.
Se recomienda encarecidamente a los padres monitorear la temperatura diaria antes de llevar sus hij@s a la escuelas. Las escuelas Archimedean harán controles de temperatura al azar. Si se determina que un estudiante tiene fiebre, los padres recibirán una llamada para recogerlo en 30 minutos.
Área de aislamiento: Si un niño presenta temperatura o cualquier síntoma similar a un resfriado / gripe, el estudiante será retirado de su salón de clases y esperará en el área de aislamiento reservada en cada edificio.
Dadas las estadísticas actuales y con mucha precaución, no se permitirá que los padres ingresen a los edificios escolares hasta nuevo aviso. Todas las visitas serán virtuales y programadas a través de solicitudes por correo electrónico.
E. Protocolo de comunicación de informes de salud (según el protocolo de las escuelas de Miami-Dade)
Si un estudiante o empleado en nuestras escuelas arroja positivo al Covid-19 seguiremos el protocolo según recomendado por el FLDOE Cualquier persona en la escuela que haya estado en contacto cercano con la persona que dio positivo en la prueba de COVID-19 será contactada directamente por la administración de la escuela. Si se considera necesario, toda la comunidad escolar o los subgrupos apropiados de la comunidad, incluidos los padres y empleados, también serán notificados por correo electrónico.
F. Reunion's de padres
Todas las reuniones (Padres con la Administración y Maestros) se llevarán a cabo a través de Zoom para el año académico 2021-22.
Si se requiere una reunión en persona en la escuela', los padres deben comunicarse con la administración de la escuela con anticipación para programar una hora para reunirse.

Para citas para visitar nuestro campus, visite el siguiente formulario.
G. Eventos y funciones escolares
Eventos de reunión y saludo de padres / jornada de puertas abiertas:

Todas las escuelas de Arquímedes organizarán reuniones virtuales de información para padres.
Pre-K tendrá un encuentro y saludo de padres. Se invitará a los padres un día antes de que comience la escuela para que traigan a sus hijos para que conozcan a los maestros. Los padres se programarán horarios específicos en una rotación para evitar a todos los padres en el edificio a la vez. Se les pide a las familias que limiten esto a los PADRES y al niño de PreK 4 ÚNICAMENTE. (No se permite la asistencia de familiares ni hermanos).

Deportes:


El programa deportivo de AUC y AMC continuará y seguirá los protocolos de salud y seguridad de los CDC.

Centro Comunitario Archimedean (ACC) / Programas antes y después de la escuela:


El ACC continuará brindando servicios y seguirá los protocolos de salud y seguridad de los CDC.

La librería de las escuelas Archimedean continuará su funcionamiento a través de la librería electrónica:

the Bookstore e-shop.

Programa de almuerzos: comidas gratuitas o reducidas Las solicitudes solo deben enviarse en línea. Para obtener más información sobre el programa de almuerzos y enviar su solicitud, visite

archimedean schools lunch program page
---
Preparado por la Administracion de Archimedean
G. Kafkoulis
J. Martinez
A. Mirhaj
D. Demopoulos
D. Brooks,
D. Bardoutsos
R. Jean
O. Bardoutsos
N. Roussi,
M. Theodorakidis
For Appointments To Visit Our Campus
To maintain social distancing guests are permitted on campus by appointment only.
Please fill the required fields below along with your appointment request.