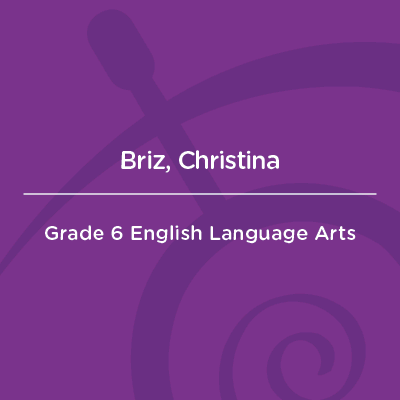 Briz, Christina | Grade 6 English Language Arts

My name is Christina Briz, and I am the 6th Grade English Language Arts Teacher at Archimedean Middle Conservatory. I have a Bachelor's Degree from FIU in Elementary Education and a Master's Degree from Nova Southeastern University in Educational Leadership. I am certified in K-6 with an ESOL endorsement, 6-9 Social Studies, and 6-9 English Language Arts.
I started my career in 1996 as a Middle School teacher in Washington D.C. until 2000. Upon moving back to Miami, where I was born and raised, I continued to work as a teacher for 9 years. I worked at Carrolton School of the Sacred Heart as a 4th Grade Teacher, Mater Academy as a 1st and 2nd Grade teacher, and Downtown Miami Charter School as a Middle School Administrator and Mentor Teacher. Then, in 2005, I began working for Archimedean Academy.
I have had the honor of serving Archimedean families over thirteen years, first as assistant principal (10 years) and then as principal (3years). In 2019, I decided to leave my administrative role and go back to the classroom in order to have more time with my family. I worked at Somerset Palms (right next door) for 3 years, teaching 6th/7th/8th Grade Language Arts, US History, and Civics.
I cherished my time at Somerset, and I believe the experience served to prepare me to come back to Archimedean in my current role as the 6th Grade ELA Teacher, having allowed me to experience, first hand, the curriculum that awaits our 6th graders. I am thrilled to be back at Archimedean, and I look forward to my future here. As an educator of 25 years I believe that education is the most powerful tool in creating social change, and that ALL children can learn!
As a Language Arts teacher, I like my students to understand what "Language Arts" means. Just like an artist may use paints and a canvas to create an image, authors, too, are artists, using words on a paper to create an image in a reader's mind. The tools of the "Language Artist" are that of vocabulary, punctuation, structure, literary devices, etc. I believe that in order to have a successful Language Arts program, you must first instill a love for reading and writing. I believe that this love comes from a program and curriculum rich in varying authentic literature. In order for students to appreciate and fully understand this literature, the program must incorporate the arts and history. Students must be taught the context and historical periods in which the pieces were written in order to fully understand and embrace them.
I thank the Archimedean administration and families for entrusting me with this undertaking, and it is my hope and expectation that I will make you proud. Working closely with the members of my team, I am confident that we will accomplish our collective goal of sending our students off to the top universities. My component is only one piece of the robust and balanced curriculum serving to move students toward this goal. However, if students are strong readers and writers, it pays off in every other area. This is not a responsibility that I take lightly. We will reach our goal!