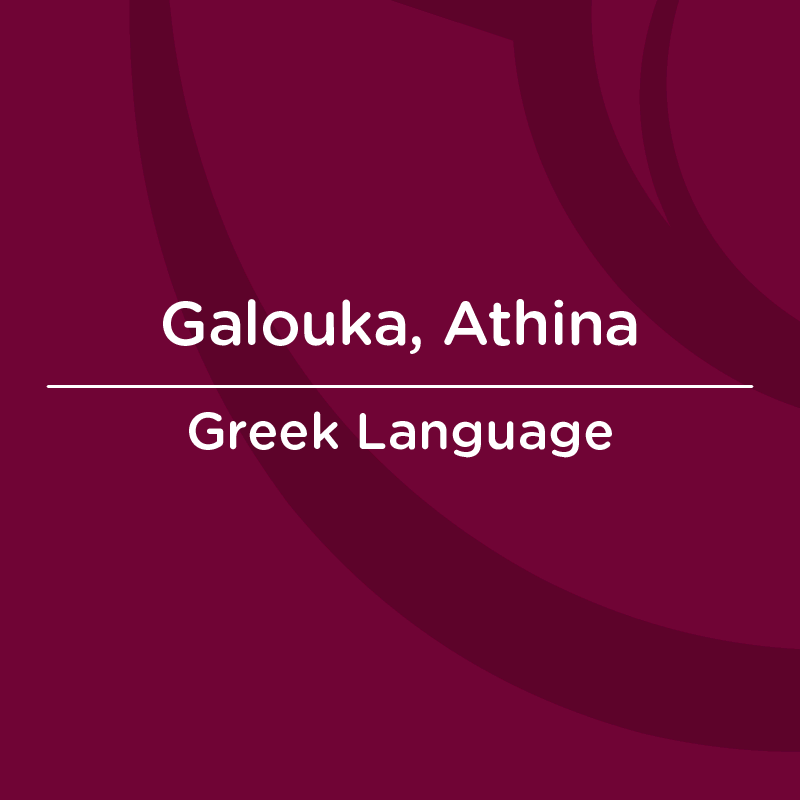 Galouka, Athina | Greek Language
Athina Galouka has been born and raised in Athens, Greece and she is a mother of two daughters.
Athina has completed her Bachelor's Degree in Classical Philology at the National Kapodistrian University of Athens in Greece and on 2013 she got enrolled in her Master's in Education M.Ed at the Hellenic Open University in Greece. She has been a qualified teacher for 29 years; for 20 years in Geitonas private High School and for 7 years, in public High Schools after she sat on the competition of ASEP.
She has been teaching Modern and Ancient Greek, Literature, History, Latin, Philosophy. She was also an Examiner appointed from the Ministry of Education for the University Entrance Exams.
She has participated to numerous seminars and conferences, she has given speeches, she has organized cultural events, she has written and presented several essays/articles regarding Modern and Ancient Greek Literature, History as well as Poems which were published in literary journals. On 2008 during Summer UoA-in cooperation with Western Washington University-in Ithaca, she was awarded for her poem and a cover essay 'Ithaca the modern destination". On 2014-2016 she studied and obtained knowledge level B1 on Biblical Hebrew. From 2016 until now she has been teaching Modern Greek Language, History and Culture at the Archimedean Upper Conservatory. During these past two years as part of her job, she wrote an extended, analytical Vocabulary for each separate Unit of the books Klik A1-A2, Klik B1, and Klik B2. Her aspiration as a teacher is to inspire her students to engage with the Greek culture and to instill the values of respect, excellence, and progress in an environment that employs dedication and motivation, that builds intelligence plus character.