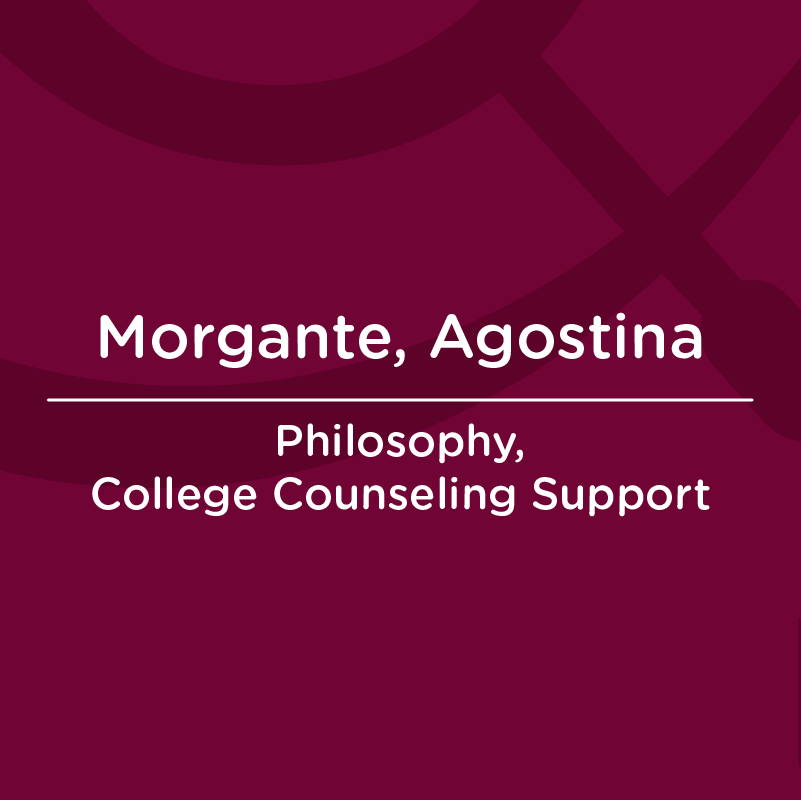 Morgante, Agostina | Philosophy, College Counseling support
A native from Argentina, Agostina Morgante Giuliani has always had a passion for philosophy and the art of discussion. Having done her high school in the most prestigious school in Buenos Aires, Argentina, she completed the first year of university in the pathway for a Bachelor's in Philosophy at the Universidad de Buenos Aires. The plans for her family changed and she moved to Miami in 2006 where she was accepted at the Honors College at Miami Dade College where she completed her Associates Degree of Arts and Sciences in Philosophy. From this institution, she was accepted at Florida International University's Honors College where she completed her Bachelors of Arts and Sciences in Philosophy—by completing a thesis on Baruch Spinoza's theory. As she was a junior in College she was accepted to start the Masters of Liberal Arts in Liberal Studies with a concentration in philosophy, art history and religion. She graduated with this degree during the spring of 2012—by completing a thesis on the application of Native American tribes' principles of womanhood on the daily lives of modern women.
From 2012 on, Agostina has been part of the Archimedean family. Her roles in the school are diverse. She teaches philosophy—Semantics and Logic, Political Philosophy and Women's Studies—, is the coach of the Model United Nations team and the Assistant Counselor—assisting with college and school program application as well as with monitoring the progress of the students at Archimedean Upper Conservatory.